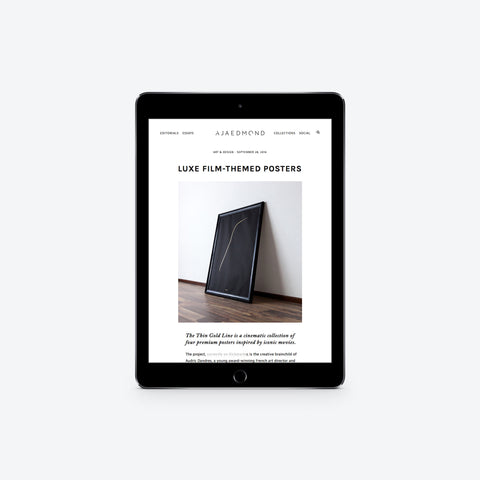 LUXE FILM-THEMED POSTERS

The Thin Gold Line is a cinematic collection of four premium posters inspired by iconic movies.
The project, currently on Kickstarter, is the creative brainchild of Audric Dandres, a young award-winning French art director and graphic designer who owns the studio Plus Minus and has a global luxury background. Dandres' vision is supported by his two brothers Lenaic and Arnold. 
The project is a new artistic approach that unites elegant and minimal design with the highest quality technical printing. The posters, made in Italy, are designed using an exclusive technique that stamps gold foil at high temperature onto deep black premium paper using a metallic matrix composite. The paper is debossed to offer a beautiful and luxurious reflective texture.
Dandres' philosophy behind the project is to recognize the historical significance of pop culture. His goal is to evoke the emotional and cultural impact of archetypes in iconic movies. The subtle gold line is a silhouette that illustrates the aesthetic qualities of each movie represented. The black paper is representative of the enigma behind each movie's lasting impression. 
Inspired by the contrast between light and darkness, the materials used and movies represented were chosen for their ability to convey this. Four poster themes will be crafted, upon successful crowdfunding, as well as a limited number of Personal Editions that create a unique design from the profile of a person's face (or object of choice). Moreover, each poster will be hand signed in gold and packaged with a beautiful certificate of authenticity sealed with the The Thin Gold Line wax logo. 
I. The Dark Side – inspired by Star Wars which expresses the opposition between light and darkness, iconically expressed through the saga of Darth Vader (the poster shows one side of the Darth Vader helmet).
II. The Red Pill – inspired by The Matrix which manifests the opposition between reality and illusion (the poster shows the iconic code lines featured in the movie). 
III. The Final Frontier – inspired by Star Trek which expresses humanity's desire to grow and conquer new frontiers 
IV. The One Ring – inspired by The Lord of the Ring which expresses the battle between light and darkness that finally resolves with the victory of Light and Good.
Aja Nicole Edmond