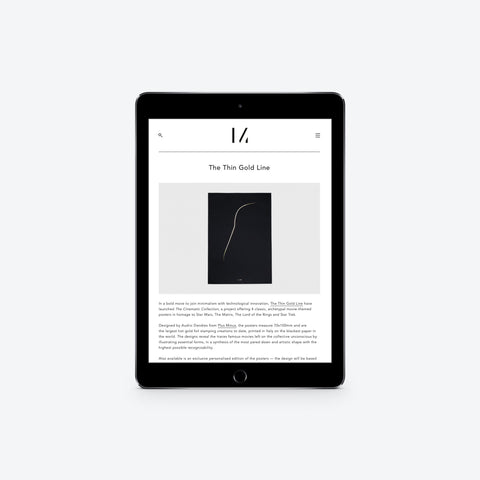 In a bold move to join minimalism with technological innovation, The Thin Gold Line have launched The Cinematic Collection, a project offering 4 classic, archetypal movie-themed posters in homage to Star Wars, The Matrix, The Lord of the Rings and Star Trek.
Designed by Audric Dandres from Plus Minus, the posters measure 70x100mm and are the largest hot gold foil stamping creations to date, printed in Italy on the blackest paper in the world. The designs reveal the traces famous movies left on the collective unconscious by illustrating essential forms, in a synthesis of the most pared down and artistic shape with the highest possible recognisability.
Also available is an exclusive personalised edition of the posters — the design will be based on the profile of the desirous client, including their date of birth printed in roman numerals at the bottom.
Marina Esmeraldo